---
The election is past and we're sorry to say the results were not in our favor. We wish the winners success with a reminder that we are not disappearing: we will be around to see that the interests of our Community and, most especially, our students are being served by the Board.
See Ron's letter in the Ambler Gazette expressing our gratitude those those who supported and voted for us on November 3rd.
---
Congratulations to Teresa Williams for her selection by the Ambler Gazette as the
Citizen of the Week for December 2, 2009.
---
Endorsed by the Montgomery County Democratic Committee
We are the endorsed Democratic candidates for the Wissahickon School District.
The School District is important not only because it sets policy for the Schools but its actions shape our students, affects our property values and sets our taxes.
Each of us has our own page so you can explore the details of our backgrounds and plans for our School District.
Please explore each of our pages on this site to learn more about who we are and our commitment to serve you and our students.
---
The picture of the Wissahickon Democrats Good Citizenship Award winner
was removed because of a letter he published
in the Ambler Gazette requesting it.
---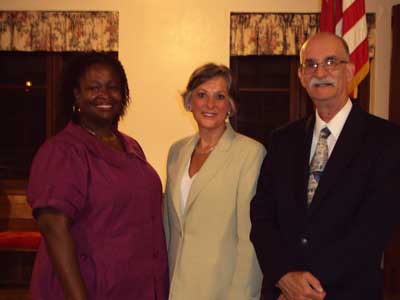 Here are Terrie & Ron with Rep. Allyson Schwartz
---
Our Campaign Committee
Joe Hoeffel, Vice Chairman, Montgomery County Commissioners
Honorary Co-Chair
Dianne Morgan
, Montgomery County Controller
Honorary Co-Chair
Mike Gerber, State Representative, 148th District
Honorary Co-Chair
Rick Taylor, State Representative, 151st District
Honorary Co-Chair
Joanne Olszewski, Former Jury Commissioner, Montgomery County
Honorary Co-Chair
Jeff Angler, Campaign Manager
215-292-4034
jeffreyangler@comcast.net
Eileen Kane, Treasurer

---